wholesale lollies
now browsing by tag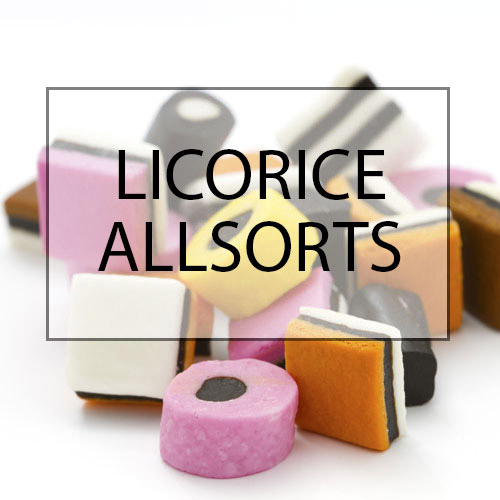 Let's first clear something up. Actually two things.
Firstly, licorice root comes from a plant. The licorice plant. Black licorice is a confection. They are not the same thing yet they are connected. (There's also red licorice but that's a whole other story)
Secondly is the matter of spelling. Regardless of whether referring to plant, candy, or both, some spell it licorice whilst others prefer the more antiquated liquorice. It matters not.
What is licorice?
With a flavour similar to anise or fennel, neither of which it is related to, licorice has long been used as a herbal remedy and a flavouring. It contains a compound that is fifty times sweeter than sugar, and dried sticks of licorice root are a traditional form of candy.
Black licorice is the original confection, flavoured and coloured with the extract of the roots of the licorice plant. Grown in many parts of the world, it was taken to Pontefract, Yorkshire, England in the 11th century by monks. Prized as a medicinal plant for centuries it was not until 1760 that the first commercial licorice candy was made. Pontefract cakes, a hard candy made with licorice extract and sugar, are still made to this day.
There are other forms of candy with the name licorice but they are not black and do not taste of licorice. Red licorice is bought as strips, ropes and tubes. Even more recently, this comes in a rainbow of shapes, tastes and colours. The only thing it has in common with black licorice is the texture.
What is licorice made from?
Licorice is made from an extruded paste that is then cut and glazed. Generally it will contain sugar, starch, binder, gum, molasses and gelatin. Aniseed is now often added to replace some of the more expensive licorice extract. Some licorice is prepared and marketed as a healthy form of candy and will be made from as natural ingredients as possible. Commercially made mass0-produced licorice may contain colours, preservatives and flavourings. Molasses is used to enhance the bittersweet flavour.
Red licorice, and all non-black licorice, is made in much the same way but has fruit flavourings and colours added. And no actual licorice.
What gives licorice its flavour?
The sweet flavour is licorice is down to a molecule called glycyrrhizic acid. The anise-like flavour is an aromatic molecule called anethole, which is also present in aniseed, fennel and star anise. Some lollies, such as aniseed humbugs, have a similar flavour to licorice but are made from only aniseed and not licorice.
In its natural form, licorice has many unique aroma molecules present that set the flavour apart from aniseed. The heat-processed licorice extract has some unique flavour molecules that give black licorice its deep caramel notes.
Licorice allsorts
Licorice allsorts are a classic assortment of licorice lollies. Made from sugar fondant and black licorice sandwiched together in a variety of shapes, as well as aniseed jellies and coconut wheels, they have been around since the end of the nineteenth century.
Are licorice allsorts vegan?
Licorice allsorts may contain gelatine and beeswax so are not vegan.
Are licorice allsorts gluten-free?
Most licorice allsorts are made with wheat so are not gluten free.
Buy wholesale lollies for your lolly bar or visit our bulk food store.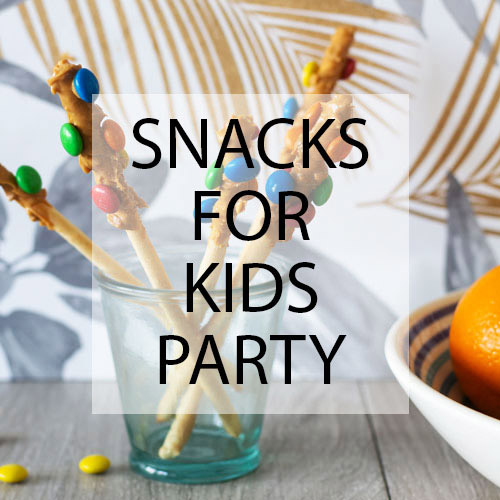 Are you stuck for kids party snack ideas? Try these M and Ms peanut butter sticks. They are super easy to make and just a few ingredients go a long way so they won't break the budget either.
Ideal for a birthday party, sleepover or even just a fun snack after school, these adorable little sticks hit the right balance between snack and sweet treat.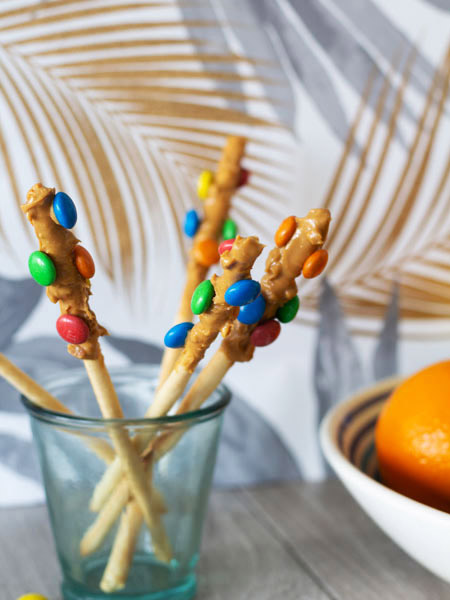 To make roughly 20 sticks you will need…
1 pack of about 20 breadsticks (as skinny as you can get)
100g m and ms
2 tbsp peanut butter
Begin by stirring the peanut butter to loosen it a little.
It helps if you give it a few 30 second bursts in the microwave. The oils melt so it becomes runnier and far more easy to work with.
Dip the breadsticks in the peanut butter, spreading it up with the help of a spoon, and then twisting to fully coat.
Press the m and m's into the peanut butter and place upright in a glass to serve.
As an alternative you could use pretzel sticks and mini m and m's. Super cute.
Don't forget you can bulk buy lollies right here at wholesale prices. Or check out what other gourmet groceries we have online.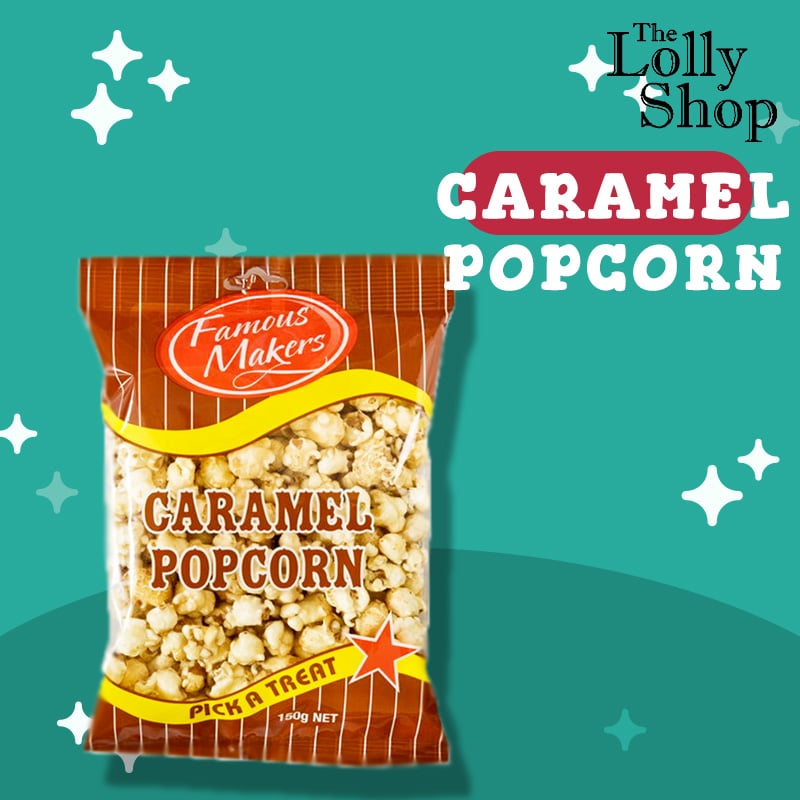 Get some yummy Caramel Popcorn for Movie Night. The Lolly Shop produces delicious and yummy lollies and they distribute a wide ranges of other confectionery including Caramel Popcorn, pink lollies, blue lollies and rainbow colored lollies.
The Lolly Shop distributes bulk lollies to retailers in Sydney, Brisbane as well as Melbourne.  Caramel popcorn is crunchy caramel popcorn that tastes sweet and fine. Caramel popcorn is available in hanging bag, your  wholesale confectionery which is quite considered ideal for impulse buyers.
Caramel Popcorn is perfect for family Movie Night ideas and it is a popular snack food in Australia. This caramel popcorn will increase the fun as it always keeps people lively and energetic. Your family can all share caramel popcorn while watching home movies.
Bulk buy Caramel popcorn 150g  it is popular among snack foods in Australia.
For more information visit our parent company website where you can get a special deal for bulk volume orders. Book your favourite candy products now and get great online discounts. View the product here in our store in the snack food category.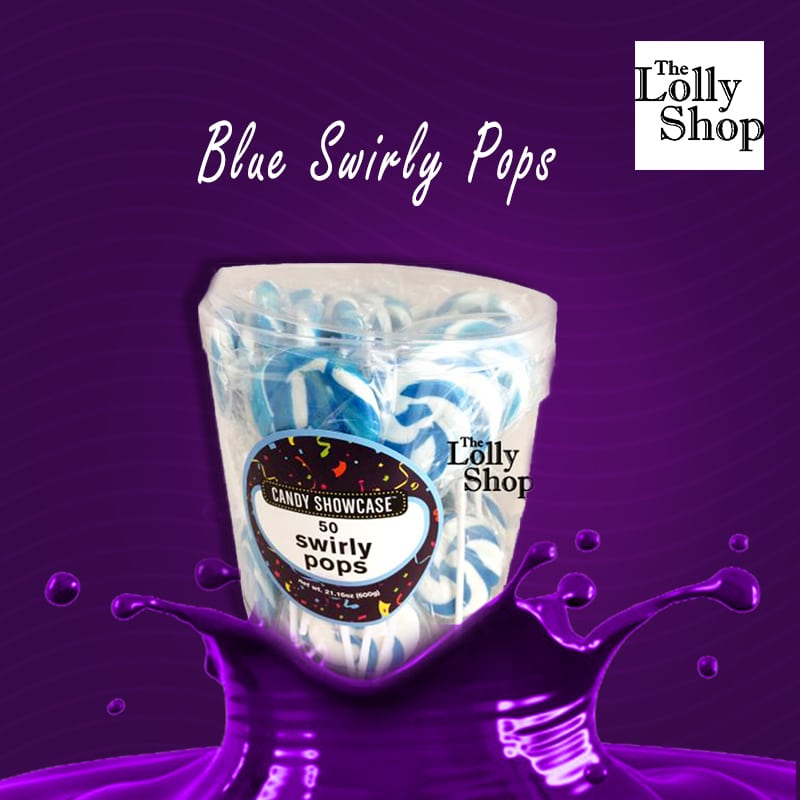 Blue Swirly Pops really do bring a smile for little boys. The Lolly Shop supplies a huge range of classic bulk lollies to retailers in Australia. Also The Lolly Shop distributes a wide ranges of lollies online direct via their web store to most regions of Australia.  Our large Blue SwirlPops are individually packed lollypops and lolliland brand.
Blue swirly pops are amazing lollypops and they will surely bring great smile out on  little kids. These lollypops are quite a favorite among little people.  Your tub of Blue Swirly Pops are blueberry flavored. Plus Blue Swirly Pops make a great counter display pack. These lollypops might help heal sore fingers as well as skinned knees.
Blue Swirly Pops are a colourful big lollypop, that's not only a mouthwatering candy, but a good way to keep kids busy and happy. perfect for a boys party.
Visit our site for more information. Buy your favorite product and avail yourself of our great online discounts on this product.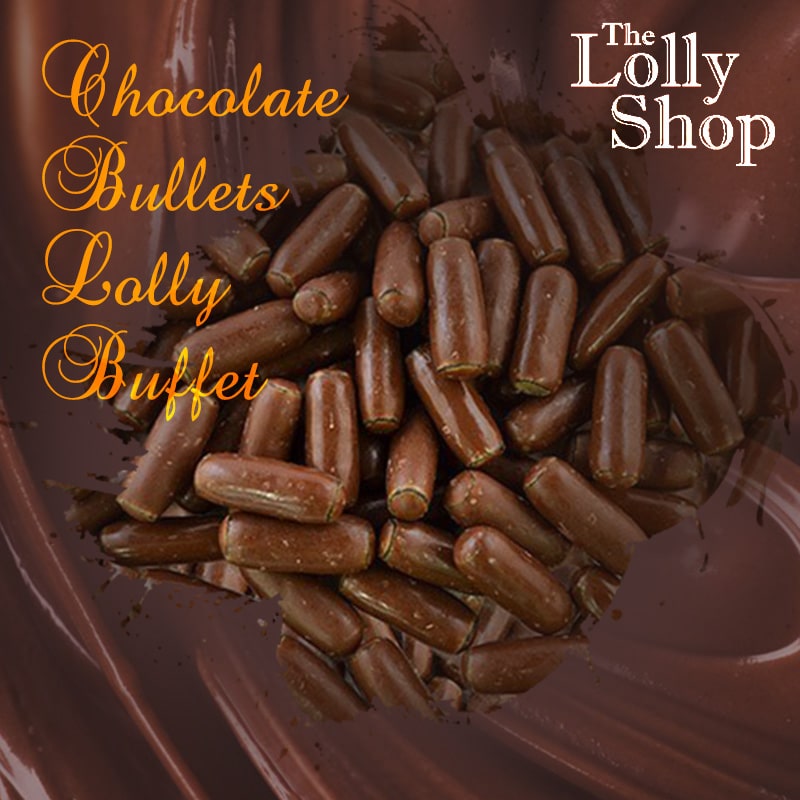 The Lolly Shop produces delicious and mouth watering wholesale lollies. But our Chocolate Bullets for the lolly buffet will surely make your day. Choc Licorice Bullets are very much popular among a fine tasting and superior range. Chocolate Bullets should not be eaten alone as they are very much moorish.
These unique chocolates will easily melt the heart of individuals and make them friendly and warm. Chocolate is recommended as perfect for the soul but the licorice definitely gives it a nice kick that tantalises the taste buds. It is an ideal lolly for stylish functions and perfect snack food for movies at home.
These Chocolate Bullets are delicious licorice rounds coated in tasty chocolate. Buy Chocolate Bullets for your lolly buffet and have them  delivered promptly to the suburbs of Australia.
Visit the lolly Shop's online store to find more details about our bulk confectionery range. Book your favorite product now and avail of bulk online discounts on these products.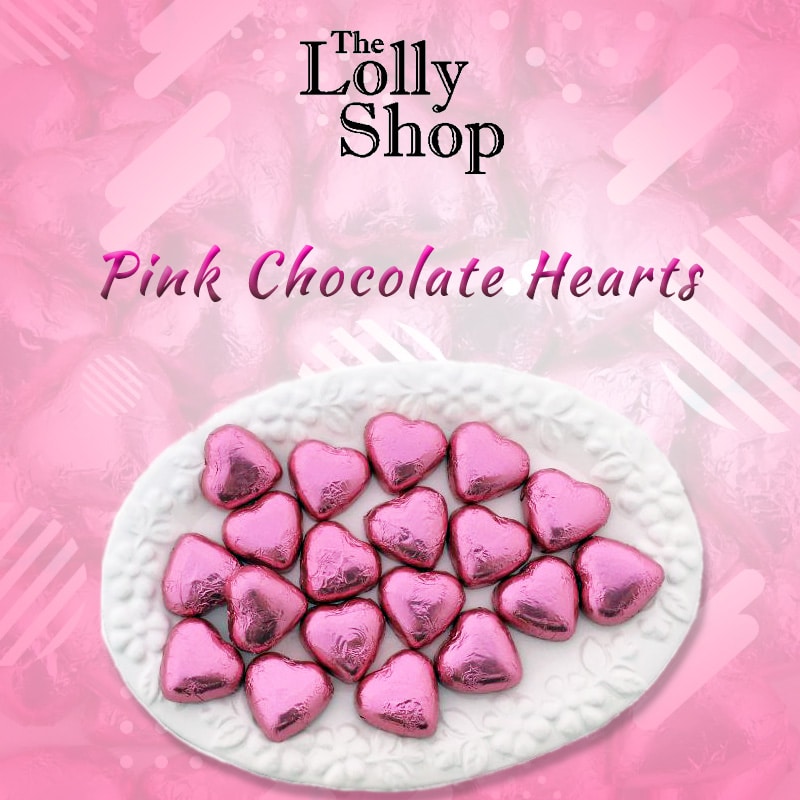 The Lolly Shop produces great bulk lollies and pink chocolate hearts are very popular especially for Valentines Day Gifts. Pink Chocolate hearts are beautifully wrapped in pink foil. Chocolate embraces and cherishes the heart of the people. Ladies love to have chocolate in the form of a heart, particularly pink in color.
Pink chocolate hearts are perfect for the wedding ceremony, table decorations, token gifts, Valentine's Day, decorations for cake, party snacks, promotional campaigns or any kind of social gatherings. It is regarded as a favorite candy for children and adults.
Pink Chocolate hearts can be purchased on line in Bulk Lollies section of Opera Foods store.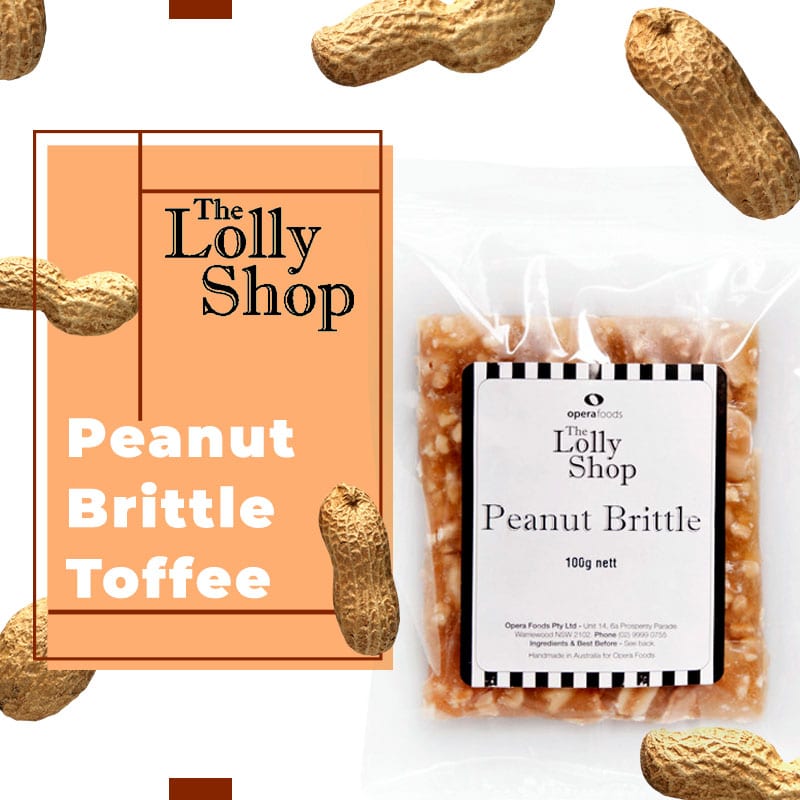 Peanut Brittle toffee is the product of The Lolly Shop brand. It is considered as one of  the crunchiest as well as  a chewy snack in Australia. The Lolly Shop is owned by Opera Foods,  a family business in Australia and it supplies bulk lollies to retailers and groceries.
Peanut brittle toffee is made up of glucose syrup, sugar peanuts, water, sodium bicarb, cornflour, gelatin and many more. Peanut brittle toffee contains protein, fats, carbohydrates sugars, sodium, and many others.
The Lolly Shop's Peanut Brittle can be purchased at Harris Farm stores or their online store.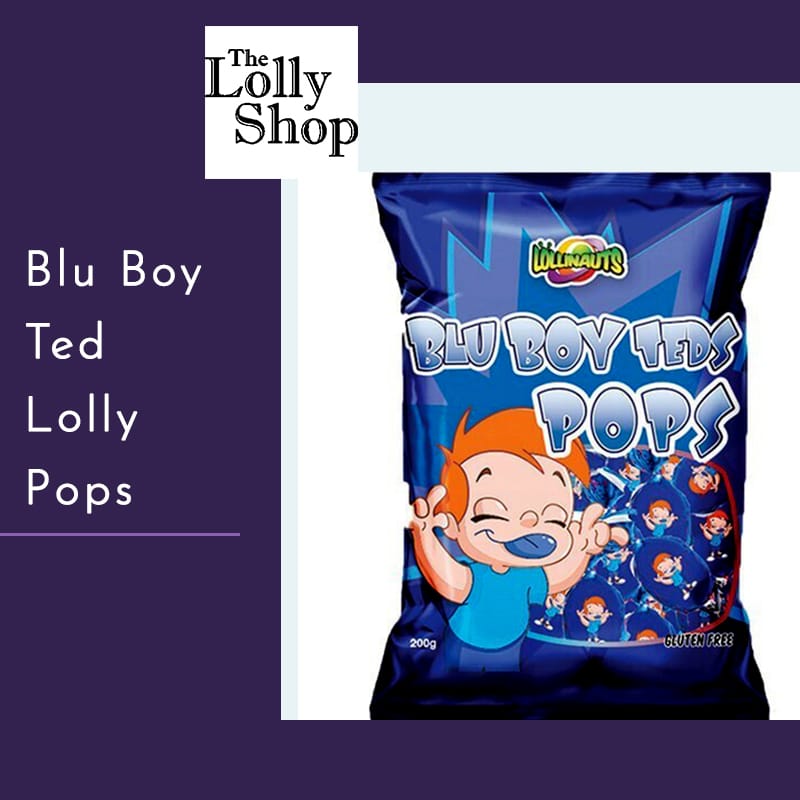 Blu Boy Teds lollypops are amazing for smiles and laughter and lots of fun tongue poking. These great Lolly Pops in blue are the product available from The Lolly Shop brand.  Your children will love these pops. It will put away whingeing, skinned knees and it will make little tongues blue (not permanently) and will make huge fun and laughter and tongue poking. Brave boys will like these pops and will create lots of fun. The girls can also participate in having Blu Boy Teds lollypops.
Our Blu Boy Teds lollypops can also refill your jars of the lollypops. The Lolly Shop is delivering huge bulk of lollies online from our warehouse of Australia. Blu Boy Teds Lolly is 1 kg bag of lollypops which are quite best-loved among blue lollies.
Book your favourite bulk lollies now and avail online discounts on these and other confectionery products.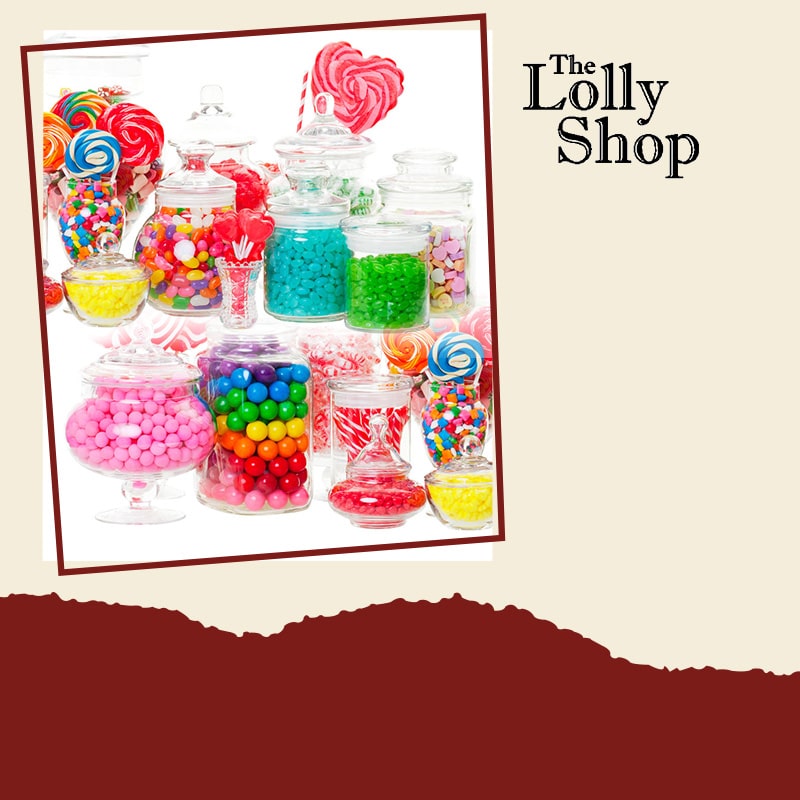 Variety in Lollies are the great strength of The Lolly Shop brand. The Lolly Shop is owned by our family business in Australia for many years supplying confectionery retailers Australia wide. We wholesale from premises in Warners Bay NSW and deliver to Sydney Melbourne and Brisbane overnight. However we also sell bulk lollies online direct to the public. Ideal if your having a function or large  kids party.
Lollies are considered as the favorite candy for children as well as adults. Bulk Lollies are ideal for a wedding functions, corporate events, promotions, themed parties and many more.
Lollies are made up of ingredients like glucose syrup, water, sugar, thickener, food acid and many more. Our Wholesale Lollies are of many different flavors including vanilla, blackcurrant, orange, lime, pineapple, aniseed, bubblegum and so on.
The shape and size of the respective lollies are of different sizes.
Order now from our online store which links through to our parent company eCommerce website for online shopping.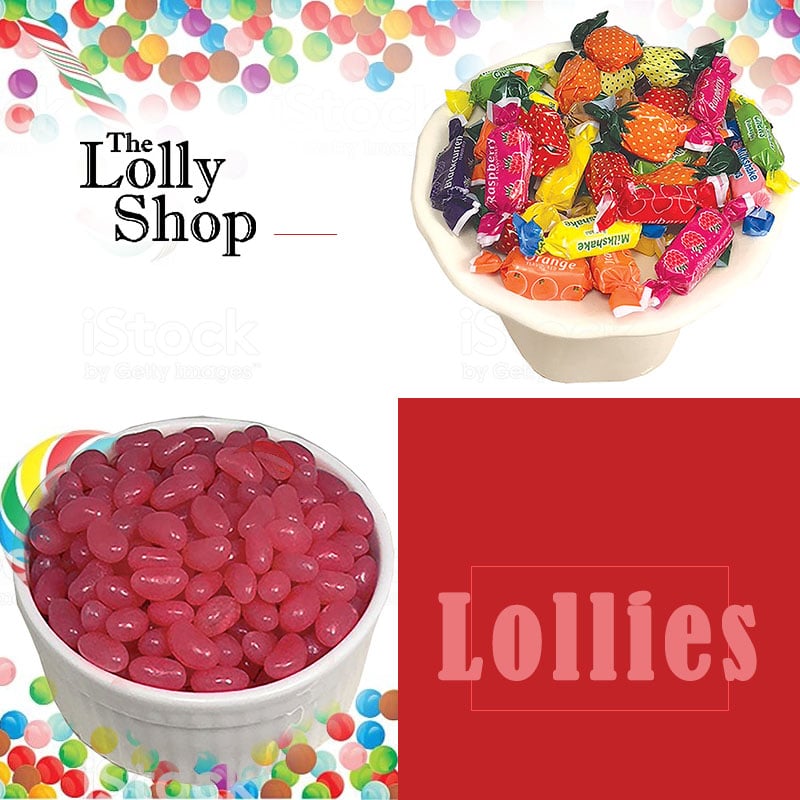 In Sydney, pink parties have a special place in the heart of Sydney candy factory. Every child love candies. Most of the parents prefer pink lollies in Sydney for girls Birthday parties. Pink lollies are of multi-varied including chocolate, shimmer pearls, marshmallows, gummy lollies, candy sticks, pink jelly beans, sour ears, crystal sticks and many more.
Pink lollies are made of powdered sugar, sour strawberry, milk, coconut.  Pink lollies can be available in different stores in Sydney and it can be available in different online sites. Pink lollies can be available at an affordable price. Nowadays, pink lollies are quite popular across different countries. People can have pink lollies in birthday bash and different kinds of events including wedding, baby shower.
The Lolly Shop is a wholesale confectionery shop which provides bulk lollies at a reasonable price. Register with our wholesale dealer Opera Foods to know the exact price for bulk orders if you are the retailer.