How to make a lolly buffet. Life is sweet so take a treat.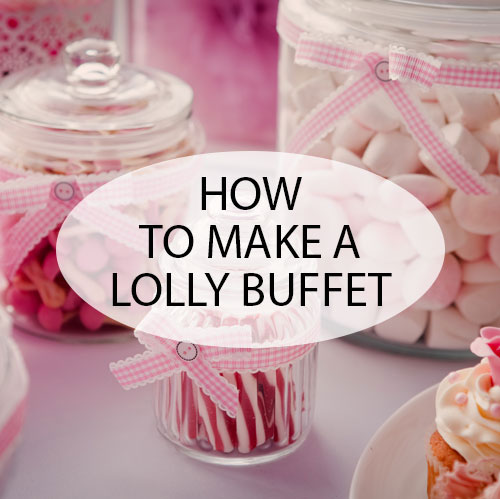 A lolly buffet, is the ideal centrepiece for your event.
Perfect for any party, wedding, or corporate event, it solves the issue of what to serve for dessert and also provides instant insta-appeal.
A great showstopper or talking point is the key to any successful gathering.
Find out just how easy it is to make a lolly buffet with our professional tips and tricks. All you need to add the wow factor to your party.
What is a lolly buffet?
A lolly buffet aka candy buffet is an assortment of lollies arranged for party or event guests to help themselves. It is served as the dessert part of any meal, or even just a treat table. Guests can also fill their own lolly bags to take home, so it stands in place of wedding or party favours too. The table can also include other cakes, biscuits and confections. It can, for example, feature a wedding cake or birthday cake as its focus.
How many lollies for a lolly buffet?
As a rule of thumb, offer between 200g to 300g per person. Depending on the theme, which may impact how much variety you have to choose from, aim to serve 8 to 10 different types of lollies. Go for a mix of different types, some hard and some soft. People love a bit of nostalgia so maybe consider including old childhood favourites. Everyone's taste is different so try to include a range that suits everybody with some chocolate and perhaps some popcorn. Buying lollies in bulk is the best way to keep the costs down but also to find a wider range.
How to set up a lolly buffet
Before thinking about the table set up for your theme, you need to visualise just how many lollies you need to display, and take into consideration things such as other cakes, room for containers, scoops, labels etc. Most events will use a table, but you could use a chest of drawers, wooden dresser, drinks trolley, or anything else of a suitable size for your particular party.
Lolly buffet jars
You might want to think about your jars and bowls first. Glass is a must, as the entire display relies on the lollies being seen. Some sweets such as marshmallows take up a lot of room for their weight. Others, such as jelly beans, take up less space. You need to plan your lolly jars accordingly. Lids look nice, and keep everything clean, but at a large event is that practical? If you go for lids on jars, make sure there is enough surrounding space for them to be placed on the table during busy times. Plan a range of heights and widths using a range of different containers. Long stemmed glasses are a good way to add height, but are also less stable.
Dress it up
Each jar or bowl will need a scoop or tongs, and maybe a label. Use ribbons or strings to hang labels on jars, or stick them on with sticky dots. These are also useful for holding ribbons in place. Decorate your table to suit the theme, remembering to add height at every opportunity. Bunting, balloons, flowers, plants, and even feathers all add height to a display. A cardboard box draped in tissue paper or fabric goes along way to create some height, and a platform for the odd bowl or jar or two. An elegant twig tree will add height and interest and can be hung with decorative bits. And everyone loves the magic of a fairy light.
Think about the surface of the table and scatter petals or table scatter. Yet also be aware of the power of blank space. Too much clutter can look over busy.
Lolly bags
Don't forget to include takeaway options for your guests. Simple paper bags or cones are an inexpensive way to replicate that lolly shop look. Or you could choose noodle boxes for more of a patisserie/chocolate shop type feel. Both are cost effective and can be personalised for the event. Remember to provide stickers so they can seal their lolly bags for transport home.
Give yourself time to plan, prepare and execute. Do your research. A rush job never helped anyone.
And have fun.
Lolly buffet ideas
There are pictures of lolly buffets all over the internet so have a good look around for info. There are many ways to pick a theme…
By colour. Use a colour wheel to get ideas.
Keep it monochrome with black or white.
Pick a character.
Choose company branding colours.
Find a dressing table and drape it with trays of jewels and lolly necklaces.
Set up a dresser and lots of jars to create an old fashioned sweet shop.
Go rainbow.
Shabby chic with birdcages and bunting.
Keep it retro.
Be gluten free.
We have all your party lollies right here, and offer wholesale prices at our bulk food store.