How to make chocolate bark with all your favourite lollies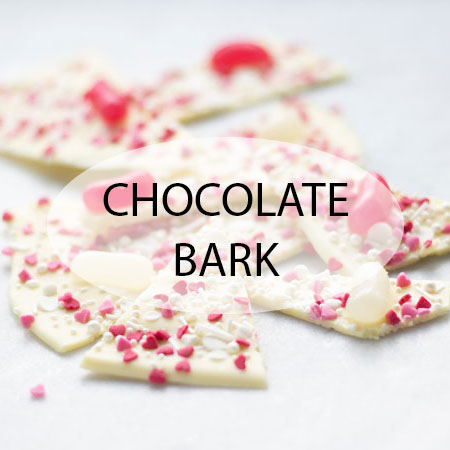 Chocolate bark makes great gifts or party favours and is super easy to make. All you need is some good quality chocolate, all your favourite lollies, and a colourful imagination.
You can make it for fun, for yourself and friends, or as an activity with the kids.
We talk you through how to make chocolate bark and give you a few ideas of the kind of lollies you can use.
How to make chocolate bark
You can make a pretty decent chocolate bark as a treat to eat at home, or something to do with the kids on a rainy day. Or you can make it as a gift for friends and family, or as party or wedding favours. The type of chocolate you use, and the method that you follow, can depend on how polished you need the final product to be.
Chocolate couverture is best as it usually contains a higher percentage of cocoa liquor, cocoa solids and cocoa butter. It is designed for the professional chocolatier but is widely available. For a really professional result you still need to temper couverture. It is certainly more forgiving that standard chocolate, but tempering is essential for a nice sheen and a satisfying snap.
If you are just having fun with the kids and don't mind a bit of white bloom from the fridge, then by all means go for it. But the chocolate may not set quickly, or even enough, unless you put it in the fridge. The fridge can cause condensation, but also affects how the sugars rearrange themselves; resulting in the harmless yet not particularly polished  looking bloom.
To make chocolate bark without tempering, simply melt your chocolate in bursts in the microwave, stirring until completely melted. You will need at least 300 g for a slab the size of an A4 sheet. Pour onto greaseproof paper and spread the chocolate out with the help of a spatula. Go as thick or as thin as you like. Top with lollies of your choice, pressing them in to the melted chocolate. At this point you can leave it out to set, or put it straight in the fridge. Chances are if you haven't tempered the chocolate it needs to go in the fridge so you may as well do it from the start. Once set, cut into shards and keep in an airtight container. You may still want to keep it in the fridge unless you have somewhere cool to put it.
You can temper chocolate easily using a method known as seeding. This involves melting the chocolate to a certain temperature and then cooling it down by stirring in finely chopped chocolate. For precise results you need a thermometer as there are literally just degrees of difference in the accuracy. You can however just melt two thirds of the chocolate, and stir in the final third at the end. Not strictly tempering without the correct temperatures but you might get lucky and end up with something better than simply melting it.
To temper chocolate break two thirds of your chocolate into a bowl. Chop the other third finely. Melt the chocolate in the bowl, using a cooks thermometer to measure the temparature. For dark and good quality milk heat to 45C. Stir in the other third of the chocolate, a little at a time, until the temperature reaches 31C for dark, and 29C for milk.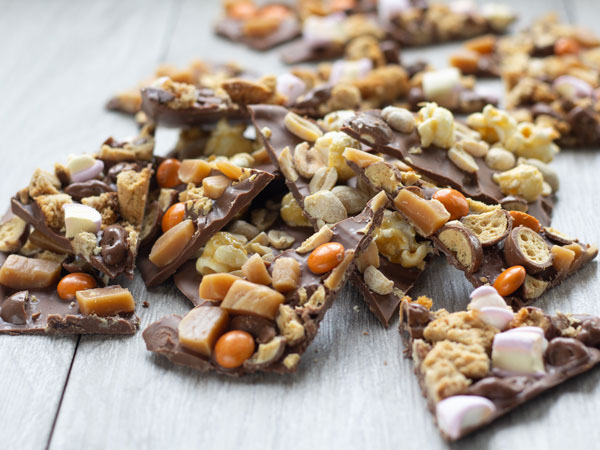 White chocolate bark
White chocolate is not a true chocolate so behaves a little differently to dark and milk chocolate. Made from cocoa butter, and a high proportion of sugar with no cocoa solids, it can burn easily. Melt white chocolate to 40C and add the seed chocolate until it reaches 28C.
Chocolate bark wedding favours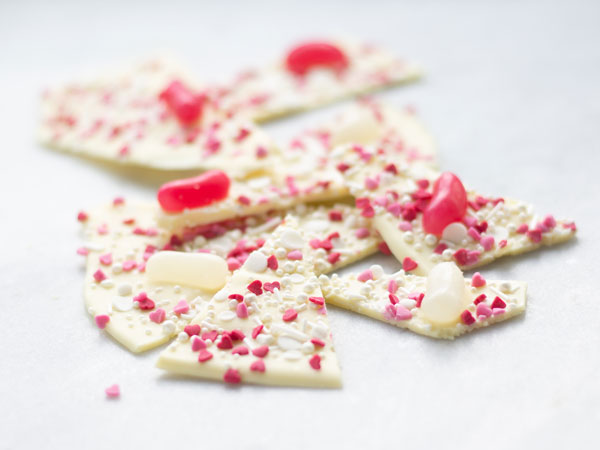 That said, white chocolate lends itself to the more traditional wedding favours of white on white, or pink on white. It is easy to create something soft and pretty with white chocolate and some pink or white lollies. Sugar sprinkles also work well. Cut your wedding bark favours into shards, or use cutters to create shapes, and present in cellophane bags with a ribbon or pretty boxes. Lace or net would also work well.
Chocolate bark topping ideas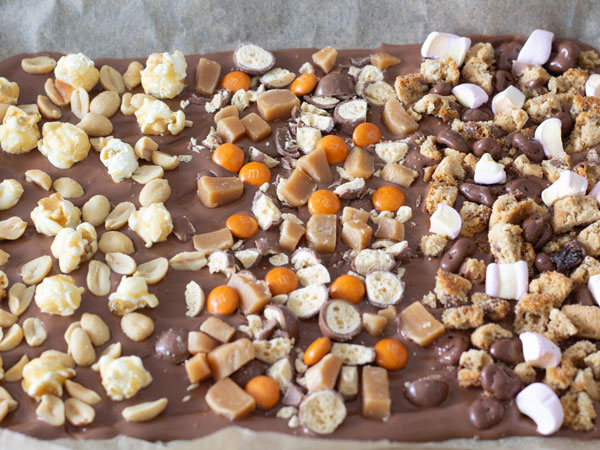 We created 3 different varieties above.
Salted peanuts and caramel popcorn
Maltesers, soft caramel, and orange M&Ms
Marshmallow, chocolate sultanas, and crushed chocolate chip cookies.
You can use any hard lollies to create a chocolate crisp effect. Mints work well, as do chocolate limes.
Jelly beans are surprisingly good with chocolate. They come in such a range of colours too you can really let your imagination go.
Chocolate lolly pizza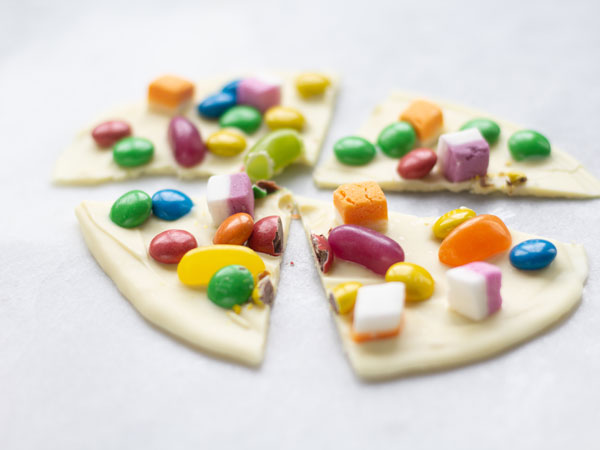 Create a multicoloured chocolate lolly pizza with an assortment of colourful lollies. The more colour the better. White chocolate works best as a background with contrast, giving it a kind of primary colours feel.
How to cut chocolate bark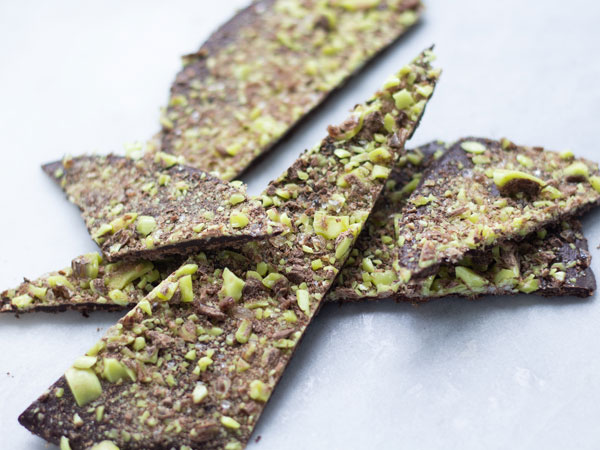 You can break chocolate bark with your fingers but it has a tendency to snap in the wrong places, creating odd shapes rather than casually artful shards. Use a large sharp knife to cut shards, trying to avoid cutting through any of the toppings.
You can get all of your bulk buy lollies right here, and also online at our bulk food store.