licorice lollies
now browsing by tag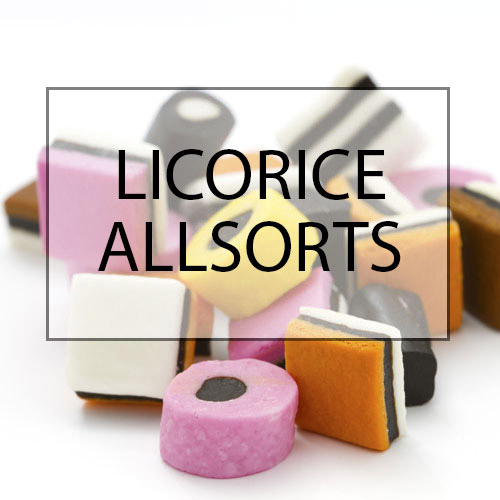 Let's first clear something up. Actually two things.
Firstly, licorice root comes from a plant. The licorice plant. Black licorice is a confection. They are not the same thing yet they are connected. (There's also red licorice but that's a whole other story)
Secondly is the matter of spelling. Regardless of whether referring to plant, candy, or both, some spell it licorice whilst others prefer the more antiquated liquorice. It matters not.
What is licorice?
With a flavour similar to anise or fennel, neither of which it is related to, licorice has long been used as a herbal remedy and a flavouring. It contains a compound that is fifty times sweeter than sugar, and dried sticks of licorice root are a traditional form of candy.
Black licorice is the original confection, flavoured and coloured with the extract of the roots of the licorice plant. Grown in many parts of the world, it was taken to Pontefract, Yorkshire, England in the 11th century by monks. Prized as a medicinal plant for centuries it was not until 1760 that the first commercial licorice candy was made. Pontefract cakes, a hard candy made with licorice extract and sugar, are still made to this day.
There are other forms of candy with the name licorice but they are not black and do not taste of licorice. Red licorice is bought as strips, ropes and tubes. Even more recently, this comes in a rainbow of shapes, tastes and colours. The only thing it has in common with black licorice is the texture.
What is licorice made from?
Licorice is made from an extruded paste that is then cut and glazed. Generally it will contain sugar, starch, binder, gum, molasses and gelatin. Aniseed is now often added to replace some of the more expensive licorice extract. Some licorice is prepared and marketed as a healthy form of candy and will be made from as natural ingredients as possible. Commercially made mass0-produced licorice may contain colours, preservatives and flavourings. Molasses is used to enhance the bittersweet flavour.
Red licorice, and all non-black licorice, is made in much the same way but has fruit flavourings and colours added. And no actual licorice.
What gives licorice its flavour?
The sweet flavour is licorice is down to a molecule called glycyrrhizic acid. The anise-like flavour is an aromatic molecule called anethole, which is also present in aniseed, fennel and star anise. Some lollies, such as aniseed humbugs, have a similar flavour to licorice but are made from only aniseed and not licorice.
In its natural form, licorice has many unique aroma molecules present that set the flavour apart from aniseed. The heat-processed licorice extract has some unique flavour molecules that give black licorice its deep caramel notes.
Licorice allsorts
Licorice allsorts are a classic assortment of licorice lollies. Made from sugar fondant and black licorice sandwiched together in a variety of shapes, as well as aniseed jellies and coconut wheels, they have been around since the end of the nineteenth century.
Are licorice allsorts vegan?
Licorice allsorts may contain gelatine and beeswax so are not vegan.
Are licorice allsorts gluten-free?
Most licorice allsorts are made with wheat so are not gluten free.
Buy wholesale lollies for your lolly bar or visit our bulk food store.