how to make a pinata
now browsing by tag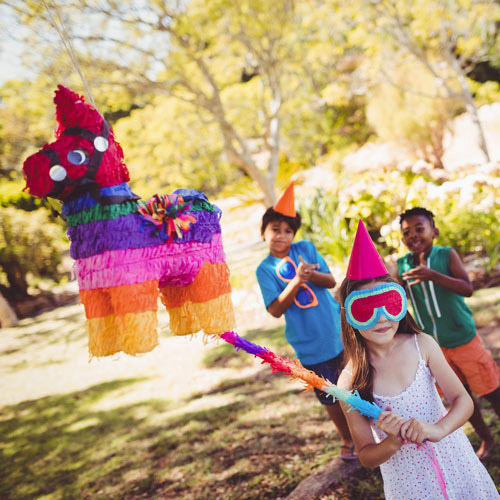 If you have never had a pinata party then you are totally missing out. Find out what all the fuss is about and get all the pinata lollies you will ever need.
What is a pinata?
A pinata is a breakable container, decorated, and filled with candy. A key part of a celebration or ceremony, the pinata is hung from a height and players take turns to hit it with a stick. Once the pinata breaks open, the contents will fall out.
The pinata has been around for centuries and is commonly associated with Mexico. It was said to have begun in China, then taken to Europe, and then introduced to Mexico by the Spanish. Mexico already had a similar form of celebration at this time yet it was the pinata that became a huge part of Mexican culture.
How to play pinata
The pinata is hung from a tree, or somewhere strong with a bit of height. The players form a wide circle, leaving plenty of room around the hanging pinata. Each player is given three turns at hitting the pinata. They are first blindfolded and then spun around. Other players are allowed to swing the pinata to make it harder to hit.
Once the pinata breaks open, everyone returns to the outer circle. They are given empty lolly bags and can then rush in to gather up what treats they can. It is a good idea to have some filled lolly bags kept aside for those who don't manage to collect any loot.
What to hit a pinata with
Traditionally, pinata is played with a wooden stick. You only really need one. A commercial pinata will come with a stick, but if you make your own pinata you will need to make your own stick. You can use anything suitable you have around the house but it needs to be thin, fairly lightweight, and about 30 inches (or around three quarters of a metre) long. A dowel rod from a hardware store is ideal, and you can decorate it with yet more tissue paper.
How to make a pinata
You can make your own pinata, yet they are widely available ready made. They come in a variety of shapes, with the donkey or llama shape still seen as the classic pinata. The original pinata was in the form of a five pointed star and was connected to religion. Although still seen at Christmas and other festivals the pointed star has been replaced with more commercial designs.
The easiest way to make a pinata is with a big balloon. Make a few layers of papier mache (more for a larger stronger pinata) leaving a hole at the top for filling. Once the papier mache is dry, the balloon is removed, and the pinata is decorated with tissue paper frills. Make a couple of holes in the top and secure with strong string or twine for hanging. The pinata fillers are put in through the hole and it is ready to hang.
What do you put in a pinata?
Pinatas have been around as long as people have been making treats out of sugar and traditionally they have always been filled with lollies. Or sweets. Or candy. Whatever you like to call it. It is only since the invasion of the sugar police that parents have been seeking alternative pinata fillers. But even adult themed pinatas (you know the ones) have some lollies inside. So we think lollies are the ideal pinata filler. It is, after all, a pinata PARTY.
How much candy for a pinata?
Bear in mind that the fuller a pinata is, the harder it is to break open. For a large pinata you will need 3lbs/1.3kg of lollies. That will give 15 children about 10 lollies each. Or 2lb of lollies for a medium pinata. That's just under a kg.
What are the best lollies for a pinata?
Small lollies like jelly beans may look great spilling from a pinata but they are not really very practical. Individual mini pinatas are great for these types of lollies though.
For a full size pinata, individually wrapped lollies are the way to go.
This party mix bag of lollies is ideal for a pinata party.
Celebrations make the ideal pinata filler and are popular with everyone.
Or make things easy with this pinata mix of lollies.
We hope you have been inspired to make your next celebration a great pinata party.
We stock a range of individually wrapped pinata lollies and there's also plenty of cheap pinata candy available to buy in bulk.
---
This article was reproduced on this site only with permission from operafoods.com.au the "Gourmet Online Wholesale Grocer". See original article:- All the Lollies for a Pinata Party